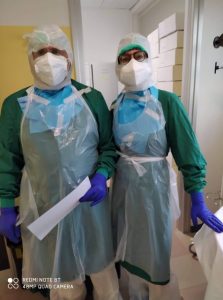 It didn't take Luigi Rubino long to turn his life, his daily life, upside down when the Covid emergency struck Italy. A well-established dentist in his 60s, with a flourishing practice in Genoa, and a lecturer at various Italian universities, from the very beginning of the pandemic he began wondering what his contribution might be.
So he decided to offer his services to a public hospital, the Covid Hospital Center in Sestri Levante (Genoa), basically starting from scratch. He accepted the challenge of carrying out a job, the details of which he knew little about, but nonetheless putting all the energy and self-sacrifice possible into it. This undertaking was also in memory of his father, who had been a physician dedicated to treating tuberculosis and was a protagonist in the fight to eradicate it. "I worked for the local medical emergency service, but that was 30 years ago, but since then I've always been a dentist," Dr. Rubino explains. "When the pandemic broke out, I felt a sense of inadequacy in having a medical degree and not being able to contribute in any way. I felt like I wasn't following the teachings of my family that carries forth a profound medical tradition.
Having done my residency in dentistry, my possible contribution was not so straightforward. After writing letters and sending applications everywhere, I was contacted by the Covid Hospital Center in Sestri Levante. To this day, what was scheduled to be a one-month commitment starting at the end of April 2020, is still on-going." He was assigned to the pre-Covid ward, where the so-called 'gray' patients, i.e., those with symptoms but with initially negative swabs, are housed. But during the second wave, Dr. Rubino also worked in the Covid  ward itself.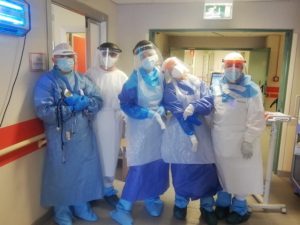 "They never put me in the front lines, I don't have the skills – the dentist states – even though I have always examined patients. But I did everything that needed to be done, including providing my computer skills." "The disheartening thing is that I knew how to do very little – he says -.  The head of the department is a colleague who is two years younger than me, I am the 'mascot' in some ways. It was, and still is a wonderful experience in which I rediscovered teamwork, and saw the total self-sacrifice of the younger staff members.
He even 'adopted' a patient who had no relatives: Angelo, a gentleman from an assisted-living facility who stayed in the ward for three months given the difficulty for the facility take him back. "I would take his clothes home and wash them for him, I interacted with him.
Having to say goodbye to him was one of the most touching moments." Dr. Rubino, who was vaccinated against Covid on Dec. 31, also offered his services to vaccinate others. However, he is not the only one in his household who has chosen a show of solidarity.